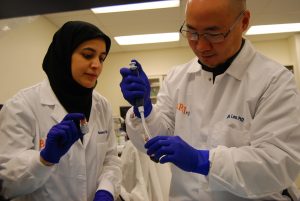 Dr. Chris Lee recently received funding from the The Legacy of Angels Foundation to continue his important research characterizing and profiling the genetic variants that cause Krabbe disease, and evaluating therapeutics that may improve outcomes for Krabbe disease patients.  Dr. Lee's research lab has been leading discoveries in Krabbe disease research for many years.  Most notably, they have pioneered preclinical studies related to enzyme replacement and pharmacological chaperone therapy, and developed many important discovery tools, including cell models, and biochemical and histological assays. Funding from this award will be used to profile psychosine accumulation and evaluate 1-deoxygalactonojirimycin as a potential therapeutic for Krabbe disease.
Krabbe disease is a lysosomal storage disorder with devastating neurological manifestations.  It is an autosomal recessive inherited disorder, caused by mutations in the galactosylceramidase (GALC) gene, which severely impairs its function, and leads to extensive demyelination and neurodegeneration in the central and peripheral nervous systems. There are very limited treatment options for Krabbe disease patients, especially for the most common early infantile form, which results in symptoms onset within the first 6 months of life and often causes death before the age of two years.
The Legacy of Angels Foundation aims to direct, fund and promote research to develop and enhance treatments and cures for Krabbe disease and Cystic Fibrosis.  They support their mission through research, education and awareness about these destructive diseases; and in support of expanded newborn screening. TLOAF strives to increase the probability of early identification for children with Krabbe disease and Cystic Fibrosis, improve access to care and treatment, and support the development of new therapeutics.